How to Elevate Your PC Gaming Setup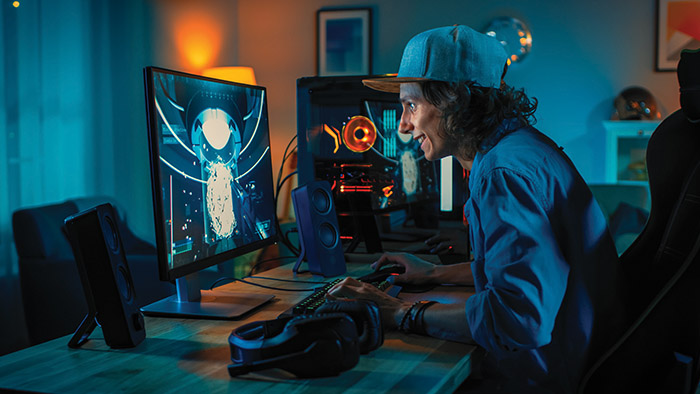 When it comes to serious games, immersion is the goal. You want a multisensory experience that draws you into a game. Today's modern consoles are a big step forward in creating an immersive gaming experience, but to truly elevate your PC gaming you need the best technology to bring your world to life.
Start with the basics
Invest in a gaming table to build your setup. Unlike a standard desk, a gaming table is oriented to facilitate comfort and play during long sessions. A good gaming table will also help you reduce clutter while securely housing all your tech, including your PC, mouse, keyboard, monitor, speakers, and more.
Next, any good gaming rig will have a high quality chair that is comfortable and supportive. Look for ergonomic options that support your back and posture so you can be sure you won't be sore after hours of playing. Additionally, chairs designed for gaming are generally stylish and come in many eye-catching colors and designs. to improve the aesthetics of your configuration.

Make it multisensory

If you are looking for an immersive gaming experience, you must make updates that appeal to the senses of sight and sound. Start with a gaming monitor so you can enjoy smooth, detailed visuals that bring the game to life. Next, increase your experience with gaming speakers that make you feel like you've been transported to another world. .
Benefiting from proprietary 3D game sound technology, LG UltraGear GP9 gaming speaker has HRTF (Head Linked Transfer Function) algorithm to tailor game audio according to its genre. This means you'll enjoy incredibly detailed virtual surround sound with a realistic feel of space, position, and directionality, all without bulky headphones.
As if rich, customizable sound wasn't enough, its functionality is sure to impress. The GP9 is a one-of-a-kind "voice chat" gaming speaker that lets you communicate with other gamers without the need for separate headsets or microphones. The built-in mics use LG's unique echo cancellation algorithm which can distinguish a user's voice from game sounds and background noise. Try pairing the speaker with one of the best LG UltraGear gaming monitors and you will be on your A-game at all times.
Discover new titles
The era of new high-end gaming consoles has inspired a plethora of immersive new games worth exploring. One of them has received an overwhelmingly positive response from the gaming community and mainstream media is Kena: Bridge of Spirits. The immersive storytelling and high-quality animation, often compared to what can only be seen in the cinema, touched the hearts of gamers and earned it international acclaim.
This story-driven action adventure features endearing characters, compelling exploration, and fast-paced combat. As Kena, players will rebuild the foundations of a community that is suffering at the hands of a corrupt leader. Players find and develop a team of charming and lovable spirit companions called Rot, improving their abilities and creating new ways to manipulate the environment.
Restore the environment and fight against ancient enemies to unravel the mysteries of the forgotten village. This 3D single-player game is a feast for the eyes with lush and stylized environments where your combat and puzzle-solving skills are put to the test.
With the best technology and awesome new games, you'll be ready for an immersive gaming experience that is sure to impress. Your virtual reality will be more authentic than you ever imagined.